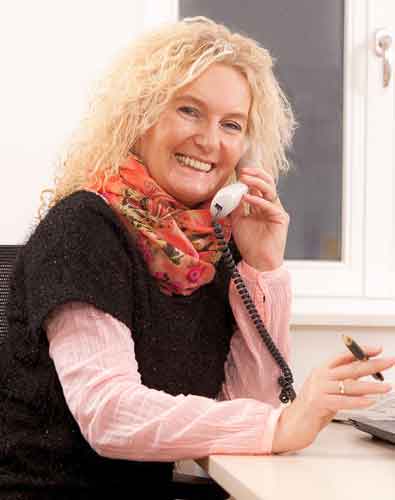 Andrea Herold - ehemalige Phobiepatientin von Dr. Leu
Unsere Ansprechpartnerin für alle ZahnarztPhobie-Patienten, Andrea Herold, litt selbst unter ZahnarztAngst. Mit Hilfe von Dr. Leu und der Dr. Leu-Methode in drei Terminen gelang es ihr, ein neues Leben anzufangen. Lesen Sie hier Ihre Geschichte.
Andrea Herold ist jederzeit für Sie da - nutzen Sie die Möglichkeit, mit ihr zu telefonieren!
Tel: +49 (0)89 92 334 887
Mob: +49 (0)151 74 35 05 06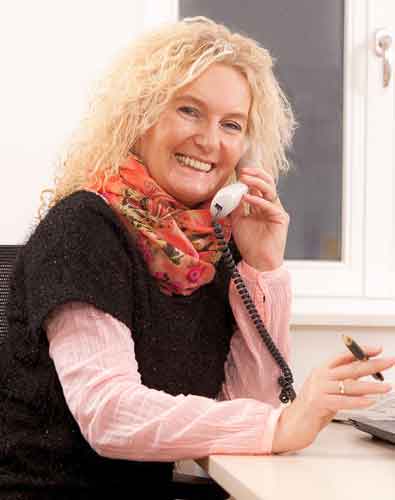 Our contact person for German speaking phobic patients, Andrea Herold, also suffered from dental phobia. With the help of Dr. Leu and the 3 appointment therapy, she managed to start a new life. Read here her story.
Overcoming of a childhood trauma
My odyssey started with an extremely traumatizing visit to the school dentist. The experience was so awful that I would not go to the dentist for the next 23 years.
My teeth would always get worse. Through diverse techniques I got used to hide my teeth when I was speaking or laughing. The contacts to my friends became less because it was too awkward for me. I was ashamed to be unable to act upon it.
In January 2002, I read in the newspaper Leipziger Volkszeitung for the first time about a patient who suffered from dental phobia and her treatment with the 3 appointment therapy by Dr. Leu. Immediately, I knew, it was the answer! In a letter, I explained my fears to Dr. Leu and a couple of days later he called me. He talked to me calmly on the phone and was very understanding.
I was still afraid but I trusted him at once. At the beginning of summer 2002, the dental treatment with the 3 appointment therapy began through Dr. Leu.
2 weeks after surgery under general anesthesia, on the third appointment, a resplendent woman was smiling at me in the mirror after so many painful years. I will never forget how it felt!
I agreed that a TV-Team would come along during the treatment and I remember it like if it was yesterday: the cameraman who was recording the whole time was so moved that tears came to his eyes. Because of my story and the large feedback from the TV appearances, Dr. Leu asked me to join his team as a consultant. Today I am happy and thankful for my mission within the Gentle Dental Office® and there is not a day where I do not laugh wholeheartedly.
Take a chance too! I am here for you!
Sincerely,
Andrea Herold
Tel: +44 755 19 84 722
Überwindung eines Kindheitstraumas
Meine Odyssee begann mit einem überaus traumatischen Zahnarztbesuch in der Schulzeit. Das Erlebnis war für mich so schrecklich, dass ich danach 23 Jahre nicht mehr zum Zahnarzt gegangen bin.
Meine Zähne wurden immer schlechter. Ich gewöhnte mir Techniken an, um die Zähne beim Reden und Lachen zu verstecken. Die Kontakte zu Freunden wurden weniger, weil es mir so peinlich war. Ich schämte mich für dieses Unvermögen, handeln zu können.
Im Januar 2002 las ich in der Leipziger Volkszeitung das erste Mal von einer Patientin mit Zahnbehandlungsphobie und deren Behandlung mit der Dr. Leu-Methode in drei Terminen durch Dr. Leu. Ich spürte sofort: Das ist die Lösung! In einem Brief schilderte ich daraufhin Dr. Leu meine Ängste und schon ein paar Tage später rief er mich an. Er sprach ganz ruhig mit mir und zeigte großes Verständnis.
Ich hatte immer noch Angst, aber irgendwie fasste ich sofort Vertrauen. Im Frühsommer 2002 begann die Behandlung mit der Dr. Leu-Methode in drei Terminen durch Dr. Leu.
Zwei Wochen nach der Operation in Vollnarkose lachte mich dann beim 3. Termin nach vielen schmerzvollen Jahren eine strahlende Frau im Spiegel an! Dieses Gefühl werde ich nie vergessen!
Ich hatte mich bereit erklärt, die Behandlung durch ein TV-Team begleiten zu lassen, und ich weiß es noch wie heute: Der Kameramann, der die ganze Zeit filmte, hatte vor Rührung Tränen in den Augen. Aufgrund meiner Geschichte und der großen Resonanz auf die TV-Beiträge nahm mich Dr. Leu im Jahr 2005 als Beraterin in sein Team auf. Inzwischen leite ich seit vielen Jahren das Patientenberatungsbüro und schule unsere Mitarbeiter. Heute bin ich glücklich und dankbar für meine Aufgaben innerhalb des Teams der Dr. Leu Group. Und es vergeht kein Tag, an dem ich nicht aus vollem Herzen lache.
Wagen auch Sie den ersten Schritt! Ich bin für Sie da!
Herzlichst,
Ihre Andrea Herold
Tel: +40 (0)151 74 35 05 06